Welcome to Our Website!
Since 1985,
Tokey Hill Martial Arts
has been Family - owned and operated with over 20 years of teaching experience. We are a member of the United States National Karate Federation, which is recognized by the US Olympic Committee." Our Martial Arts Program is designed to not only train our students in the time-honored traditions of Shotokan karate, but to be a great total-body workout as well. The workouts are thorough, incorporating stretching, kicking, punching, blocks, grappling, kata (forms) and kumite (sparring). The martial arts program is not only an exercise for the body, but one for the mind as well. Discipline is the key to success in any pursuit in life, and the martial arts can help develop these valuable skills. When the mind works in harmony with the body, it becomes an awesome weapon - but you will develop the confidence to use these skills only as the last means of self-defense. World Champion Tokey Hill has shown that if you train students like champions they can become champions. Tokey Hill's teaching staff has all been personally trained by Tokey Hill. Our staff is a family tree three generations long and growing. We hope you enjoy our website and will stop by and visit us if you are in the area. This site is designed to give you information about our facility, our style of martial arts, our staff and provide you with information on how to contact us as well.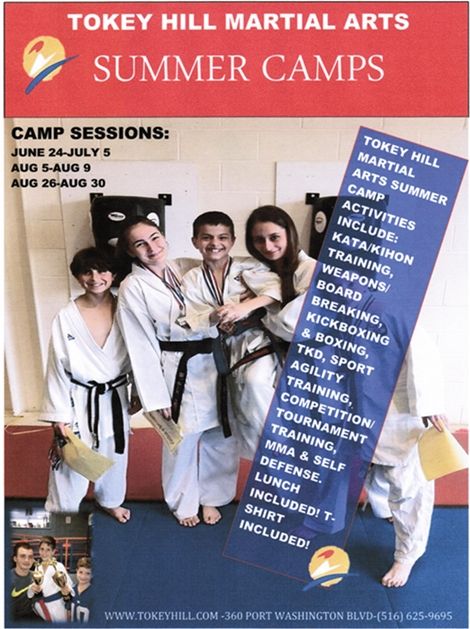 Programs
Children achieve a higher level of confidence and self-esteem while gaining physical fitness and discipline. Through our character building programs, children will learn how to reach their full potential while attaining respect for authority, self-control, and the ability to focus and the tools necessary to live healthy lives. Our curriculum is also based on practical self-defense skills that will bully proof your children and help them cope with the enormous amount of stress that they experience in schools today. Our programs help get children in shape and teach them goal achievement and the discipline needed to succeed, not only in school but also in all aspects of their lives.
Teens and Adults, regardless of whether you want to become a competitive athlete, learn self-defense techniques or simply become more physically fit we have a variety of programs to help you achieve your goals. You will enjoy a clean, fully equipped facility, reduced stress, increased endurance and muscle tone, quicker reflexes and most importantly, a greater sense of well-being.

No Obligations

We don't believe in long, binding contracts or hidden sign up fees. We are confident that our programs are the best around.